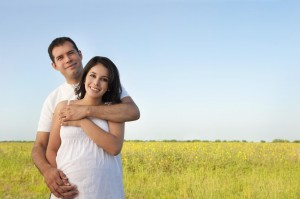 I was referred to Drew from another acupuncturist who said "he's really very good at what he does." That was and is an understatement.
Drew is what I call a Holistic practitioner – he listens carefully and observes the body to make sure that what he's doing correlates to what should be happening. He follows up with patients because he cares- a rarity in today's fast-paced reality.
Trying to get pregnant and not succeeding for years is stressful to say the least. Drew was pretty much my last hope and I'm glad a little voice in my head nudged me to his office because after a few short months of treatment, I am now in my second trimester and doing well.
Thanks Drew- you have no idea what this means to my husband and I!
Sincerely,
M. L. and Husband Toronto, ON
M.L. first contacted me over the phone and I loved her energy right away. When we met in person, she informed me that she and her partner had been trying for some time and that she was concerned that her age was the biggest factor to her difficulties (over 40). M.L. was not going through any other ART and wanted to try treatments with me first. She was another ideal client and followed my advice to the letter. Three cycles later, she informed me she was pregnant. Her baby is due in mid fall 2011.
I was referred to Drew by a good friend who was treated by him and was successful in getting pregnant after years of trying. I was in a similar boat. I was feeling frustrated, incredibly anxious and losing hope that I would ever get pregnant. I had never tried acupuncture before and I can admit to being skeptical. After my first visit to Drew all doubts were set aside. The atmosphere that Drew creates is one of utmost calm, peace and serenity and I came to really look forward to my appointments where for an hour I could finally relax. After a few months I was delighted to discover I was pregnant. Drew was the first person to know! In November 2012 I gave birth to a beautiful baby boy who we came very close to calling "Drew".
I still can't believe I have a son.
V.L. Toronto, ON
When my husband and I first met Drew, we were at the point where we didn't know where to turn. We had gone through 3 sessions of IVF with no success and no diagnosis as to what was wrong – because nobody knew… As one of her last efforts, our doctor suggested acupuncture. I had read about it but didn't know much and I was a little skeptical. But we didn't have anything to lose, so there we were…
Drew has been the best thing that happened to us. His knowledge of acupuncture and TCM were not the only two things that came across as treatment progressed. He is easy to talk to (almost like a therapist but without the fees!), modest and very understanding. He has an awesome personality. I quite enjoyed my sessions with Drew. I really believe that with Drew's expertise in acupuncture and TCM, along with IVF, I finally succeeded in getting pregnant. We are expecting in December! I feel that this would not have happened without Drew. Thank you very much for what you do!
V.C. Toronto ON
**V.C. delivered a healthy baby boy in early December 09!
When I first met V.C., she was exactly how you might expect someone to be after 3 failed IVF's and no diagnosis…fed up and searching for answers. As mentioned above, both she and her partner were somewhat skeptical of using acupuncture and probably wouldn't have tried it if she wasn't referred by her doctor. However, she jumped on board with both feet after our initial consult and committed to treatment each week. As time went on, she started to enjoy her sessions and I could see that the relaxation was providing a lot of benefit. V.C. was using the acupuncture in preparation for an upcoming IVF. We had a few months of weekly sessions and I went in to do pre and post acupuncture for her IVF. This time it worked. I still get emails with pictures of her child…it's fantastic.
After nearly a year of trying to conceive on our own, we started looking for a holistic option for fertility as we weren't interested in a costly, medical intervention. We conversed briefly by email with Drew and were impressed with his quick, knowledgeable response so made an appointment to meet to discuss our medical histories and explore treatment options. He immediately put us both at ease with his caring manner, the depth of his questions and his wealth of experience. Drew's suggestions included continuing our organic diet and exercise routines, supplementing with vitamins and acupuncture treatments to start immediately. We both looked forward to the treatments, not only because of how relaxing and refreshing they were, but also because we knew that Drew truly cared about our progress. A short time later, we were thrilled to discover that we were pregnant! I continued to see Drew throughout the first trimester and we are so pleased to be expecting our little boy in August of 2011. It was bitter sweet to leave Drew's care, but he often checks in with us to be sure that we're doing well. We know that Drew's help was the "push in the right direction" that we needed to conceive and we will not hesitate to meet with him again as needed during this pregnancy and beyond.
Thanks Drew : )
B & K, 2010, Toronto, ON
One of the sweetest couples I have had the pleasure to work with. B and K came in to see me after about a year of trying and were hoping to give the acupuncture a try. After our consultation (they both came in together, which is what I prefer), it was apparent that stress was a contributing factor with both of them and there were some minor menstrual irregularities. This was an ideal situation where both the male and the female were on board and I started seeing them both for acupuncture immediately. In addition to the acupuncture, I also provided advice on supplements which they followed to the letter. Around 2 months later, they informed me they were pregnant! Their boy is scheduled to arrive this summer. I am so happy for them both.
Dear Drew,
I hope you are well & that your new east end clinic is thriving. I thought I would drop you a line to let you know that I have successfully made it to 35.5 weeks into my pregnancy and all is great:) I can hardly believe our boy will be here in a few short weeks. I have been going to our hospital on a weekly basis throughout the pregnancy due to all my 'issues' – but so far, the pregnancy has been textbook.
Anyways, you played a big role in this successful cycle and I wanted you to know how appreciative we are. I truly believe the many acupuncture treatments leading up to and during the cycle, in combination with the time I took off, really contributed to us getting our positive result! So thank you.
I hope you are doing great and I will keep you posted as to when the little dude arrives. Many, MANY thanks again Drew.
All the very best,
DD, Toronto, ON
This email came from a long time client who, as described above, had many issues to deal with. DD had a never-give-up attitude and endured some very difficult times to get to where she is now and I am so happy for her and her husband. Her treatments mostly involved acupuncture as she was often on hormone medication. Acupuncture is so great this way…it is completely safe to use while people are on most medication (I say "most" as one should be cautious if someone is on a blood thinning medication). I look forward to seeing some pictures of DD's child as this pregnancy was truly special.
Dear Drew,
I am so grateful for your skill and devotion to your practise and I consider myself very lucky to have been treated by you! It was really comforting to have you on my "team" and I know the work we did together had a great impact on our positive outcome. Things are feeling a lot more real now, especially since my pants don't fit anymore and a few people have sniffed me out! I am hoping all continues to go well, but I won't hesitate to come and see you again if there are any acupuncture-able symptoms!
Thank you again for your excellent treatments and your support during a stressful and exciting time!
M. D. Toronto ON – due in April 2011!
M.D. was great…very sweet but under too much stress. She was the typical age (late 30's) and simply waited to have kids like many other women. In M.D.'s case, she was using my treatments for support to the ART she was preparing for. Our focus was stress reduction. She really enjoyed the sessions and experienced other benefits like improved digestion and just generally felt better. After 6 months of acupuncture, we headed in to an IVF together where I performed a pre and post acupuncture session. A couple of weeks later, she had a positive test and is due in the summer of 2011.
Drew's character is inherently nurturing and positive which made me feel very comfortable in his care. He listens attentively and provides clear explanations of the TCM approach when asked. With his help I was able to re-balance my body and achieve my goal of conception!
B. K. Toronto ON – due in January 2011!
B.K. may have been the busiest women I had ever met. She ran her own successful company and was in a very high stress job industry. I thought my clients were stressed out! B.K.'s clients made sure she got very little time to herself which made her road to conception a difficult one. No surprise that my role was stress reduction (the stress hormone cortisol, when out of control, can negatively affect our reproductive hormones). After months of acupuncture and an IVF with pre and post acupuncture, she went on to have an uneventful pregnancy.
Hello Drew!
I wanted to let you know that I haven't fallen off the face of the earth! I kept meaning to call you back but I thought I'd send a little note instead. Being in the first trimester, I have been experiencing some nausea and vomiting…but enough complaining! Thank you for calling and for all the kindness and care you've given me over the last few months. I will be in touch and will see you again soon. Thanks again!
S. J. Toronto ON – delivered in 2007
S.J. had been trying for about a year and was not sure what was going on. She had not official diagnosis and was simply interested in some natural treatments. We started acupuncture right away and in a few short weeks, she became pregnant. Apart from some nasty first trimester nausea, S.J. went on to have a happy, healthy pregnancy.
Dysmenorrhea – Painful Periods
I want to thank you for all of you months of effort and caring. Your compassion and humour made my appointments a pleasure. I appreciate that you never gave up on me and never let me give up on myself. I have had seven months (in a row) virtually pain free; something I haven't had for 15 years or so. I owe a large part of that to you. You were definitely meant to work in the healthcare field! I wish you all the best in your future endeavours.
Sincerely,
D. M. Toronto ON
D.M. was a tough case, her period pain was intense and she was desperate for answers. She was already a very healthy person so all the typical dietary changes and supplement advice for this issue were already being used. The only thing we used was the acupuncture. She was dedicated to the treatments and benefited considerably.
Breech Birth
Hi Drew, I just dropped by your clinic to tell you in person that my baby turned down! wowowowow! I had another ultrasound today to confirm it. I'm so happy, relieved and thankful! Thank you so much for your great help. I have no idea how and why but something worked out! Thank you, thank you, thank you.
Email from R. P. Toronto, ON
R.P. came to see me in hopes that her breeched baby could be turned. She had heard something about how acupuncture could help. She was close, the procedure is called moxibustion. When she came in, I simply provided a consult and did a tutorial with her so she could do the moxibustion at home (the procedure needs to be done every day so it just makes more sense to teach the individual how to perform it at home). It's easy to do and involves no needles so it is completely safe. Needless to say, she was pretty happy how things turned out!
Click here for an article explaining how R.P.'s breech position was corrected!
Fibromyalgia
I have been living with fibromyalgia and degenerative disc disease for over 4 years. I have tried everything from pain medication to lidocaine injections to massage, and the list goes on and on. Nothing and no one was able to give me any kind of relief. Soon I gave up hope and accepted my fate to live with pain. I was fairly "young" when I started to experience pain, 29 years of age and no one took me seriously. That was probably the hardest part of living with pain – when you appear to look "healthy" on the outside, most doctors assume you are either a whiner or hypochondriac.
It was about a year ago, I was introduced to Drew by a physiotherapist. The minute I sat down with him, I knew he was different. He was empathetic, sincere and very knowledgeable, I felt at ease with him right away. I have been in his care ever since and my pain has become very manageable. I often spend weeks forgetting that I have pain. My treatment with Drew includes cupping, scraping, acupuncture and massage, but the best part of the treatment is that I have a therapist who actually listens to me and my pain. I have met many doctors and alternative medicine practitioners who are extremely dogmatic. With Drew, I always feel like we are a team rooting for ME to get better. I drive an hour just to go see him and he is worth all that crazy traffic.
Julie – North York, ON
The treatment I do for Julie is quite different from what I do with most individuals. Although I do acupuncture with her, she also receives cupping and gua sha therapy (aka skin scraping). Her neck pain can be awful but thankfully it responds very well to the combination of therapies. This is a great example of how important it is to find out what works for the individual. Julie receives uniquely strong treatment and the style I use with her is certainly not for everyone, being able to recognize this can be the difference between helping someone or hurting someone.
Hives/Urticaria
When I first called Drew, I was dealing with pressure urticaria that was becoming progressively worse each year. It had progressed to the point where on a daily basis my torso, legs and arms would be covered by wheals – at night the hives would keep me awake scratching, hot and extremely uncomfortable. The pain and discomfort from the wheals were becoming unbearable and would be triggered by the slightest pressure on my skin. It was affecting the clothes I could wear , products I could use and the activities I could do. Unfortunately, the only solution doctors would give me were antihistamines – the higher doses required left me tired and unable to concentrate. Often, the medication and creams had no effect at all…
After only a few acupuncture sessions the severity of the hives decreased drastically. I now only have to deal with the slightest, occasional breakout – no more than a tiny patch of hives that now only lasts a few hours versus a few weeks! Acupuncture was my last resort and I admit I wasn't sure if it would even work but Drew's treatment has made such a large impact on my pressure urticaria and on my daily life…he's now the first person I call!
Karen – Toronto, ON
I love this case. It was my first case of treating hives and the treatment worked incredibly well. Hives have a specific diagnosis in TCM (usually "wind heat") and Karen's case was a classic representation of this. By applying acupuncture and some simple dietary changes and supplement advice, Karen experienced fast relief and comes back to see me if it returns. Even though I am a specialist in fertility enhancement, I certainly still see cases like Karen's and enjoy seeing how quickly things can change.
Breast Cancer Care
Before I came to see Drew, I had just finished chemotherapy treatment for breast cancer and was undergoing radiation therapy. I had a fast pulse rate, trouble sleeping, raised blood pressure, hot flashes, tingling in my fingers and toes, and watery eyes. The raised blood pressure and fast pulse were making me feel tense, the watery eyes and hot flashes were annoying, not sleeping well (and worrying about it) was debilitating. The rest was manageable.
Following my acupuncture sessions, I felt more relaxed and often could concentrate on my work better in just 2 days. My eyes gradually stopped watering, and the tingling of my extremities eased noticeably. I am sure that this was not only due to the acupuncture alone, but also to Drew's wonderful care, enthusiasm and genuine attention to my problems. Thanks again.
S.W. Toronto, ON
S.W. had a tremendous attitude despite recently going through her cancer treatments. Many people know that chemo can provide amazing results but often comes with life altering side effects. In S.W.'s case, she had some typical side effects and was looking for some relief so she could get back to her work in a university laboratory. Acupuncture and supplement therapy were the mainstay of her treatments and she was extremely dedicated to her weekly sessions. After about 5 weeks, S.W. started to notice the improvements and at around 8 weeks, her treatments with me were complete. It was a joy to work with her.
Numbness in Hand
I was referred to Drew by my massage therapist for treatment of numbness in my thumb and first finger. We thought it might be a side effect from recurrent painful muscle spasms between the upper shoulder blade and spine that were proving to be resistant to both massage and chiropractic treatments. The numbness decreased by half with each acupuncture treatment. After a number of treatments, we worked on the shoulder at the same time. The numbness is gone, the shoulder pain was eased and will be kept in check long term by follow up treatments, when needed, as it is a result of a past injury and repetitive stress in the workplace. My fingers are back in the "feeling" world again and I know I have a way to control any recurring shoulder pain that was a constant trial. Thanks Drew!
Mary Jane from Toronto, ON
Mary Jane's case was very interesting and I was happy to take her on as a client. In this case, I employed my training of what we refer to as "medical acupuncture". Medical or anatomical acupuncture is a very basic way of using acupuncture and is heavily based on anatomy and physiology knowledge with less emphasis on the "traditional" acupuncture often used for internal conditions. After determining which nerves and muscles were involved in Mary Jane's case, it was not surprising that her numbness went away so quickly.
Migraine Headache Sufferer for 30 Years
Hi Drew – hope all is well with you.
I've had a real positive change in my migraines since the acupuncture treatments. On a number of occasions I was completely unaware that it was raining or going to rain. On less positive days, before rain, I have low energy levels but without the pounding head. The worst I've had is a heavy head before the rain, accompanied by feelings of low energy and chills. So I owe you a big thank you.
Take care Drew and thanks again!
LJ
Email from L. J. Toronto, ON
This was another case which I loved because the results surprised even me. L.J. was in a high powered job but despite his high position, he was incredibly down to earth and kind. During our first visit, he informed me that he was a migraine sufferer for over 30 years and had heard that acupuncture may provide some benefit and was interested in trying it out. We started treatment right away. Not long after we started, L.J. would come in saying that the headaches have "changed". When you suffer from the exact same type of headaches for 30 years, any change is good! After that, the time between headaches got farther and farther apart. This was the first time he experienced this type of result and even though the headaches still appear, the intensity, duration and frequency was lessened with treatment. Note to the world, acupuncture is great for all types of headaches!